"Bioethics & Conscience" - Internationale Conferentie
"Bioethics & Conscience" - Internationale Conferentie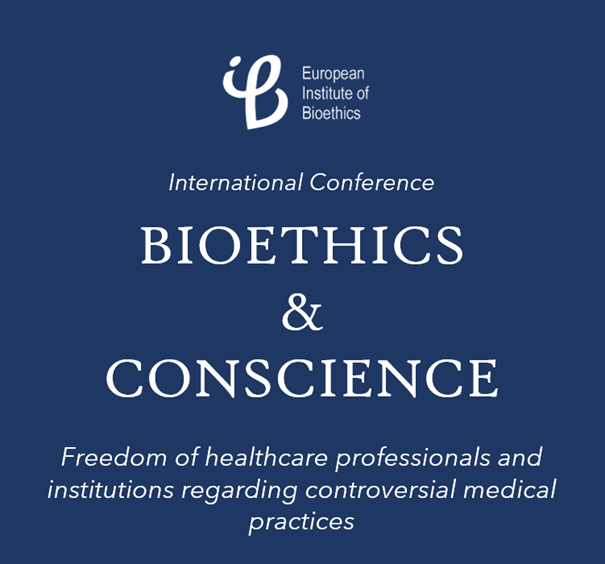 Maandag 4 Oktober 2021
UCLouvain - Faculty of Medicine - Brussels Campus
Wetenschappelijk Comite :
Prof. Benoît Beuselinck - KU Leuven - UZ Leuven
Prof. Louis-Léon Christians - UC Louvain
Prof. Willem Lemmens - University of Antwerp
60 € - De conferentieregistratiekosten zijn inclusief volledige toegang tot de conferentie, lunchpauze en koffiepauzes. Gratis inschrijven voor studenten.
Registratieformulier
Uw persoonlijke gegevens (naam, voornaam, e-mailadres, telefoon) worden alleen gebruikt om uw verzoek te beantwoorden.
Verplichte velden
Beschrijving en programma
Alleen in het Engels
Over the last few years, in Europe and Western countries, freedom of conscience of healthcare professionals has been progressively challenged as legal access to certain ethically controversial practices has expanded. This trend raises fundamental questions about the definition of healthcare and medicine, about access to certain healthcare professions, and more fundamentally about the right to conscientious objection of healthcare professionals and the freedom of healthcare institutions regarding such practices.
On the occasion of the European Institute of Bioethics' 20th anniversary, this International Conference will provide an opportunity for ethical, legal and medical reflection on these issues, thanks to the participation of numerous academics, practitioners and healthcare professionals from all over Europe.
Payment details will come to you by e-mail once your registration is validated.
Note to Belgian doctors: accreditation has been requested from the RIZIV/INAMI for participation in this conference.
Programme:
9.00   Welcome - Coffee
9.30   Introduction
SESSION 1 - The status of ethically controversial practices in healthcare     
10.00   Introduction by session chairman - Pr. Willem Lemmens (University of Antwerp)
10.10   Medical ethics and controversial practices - Dr. Helen Watt (Bios Centre UK)
10.35   Obligation de l'Etat à garantir l'accès aux pratiques controversées - Pr. Bertrand Mathieu (Université Paris 1 Panthéon Sorbonne)
11.00   Access to health professions and duty to perform controversial practices - Ruth Nordström (Scandinavian Human Rights Lawyers)
11.25   Panel discussion
12.00   Lunch break
SESSION 2 – Conscientious objection in healthcare
13.00   Introduction by session chairman - Pr. Louis-Léon Christians (UCLouvain)
13.10   Conscience, morality and the law: a substantive vision - Pr. Willem Lemmens (University of Antwerp)
13.35   Individual conscience and medical deontology - Pr. Benoît Beuselinck (KU Leuven - UZ Leuven)
14.00   General right to freedom of conscience and conscience clauses in healthcare - Dr. Gregor Puppinck (European Centre for Law and Justice)
14.25   Panel discussion
15.00   Coffee break
SESSION 3 - Freedom of healthcare institutions and social pluralism
15.30   Introduction by session chairman - Pr. Benoît Beuselinck (KU Leuven - UZ Leuven)
15.40   Can a company have beliefs? - Pr. Louis-Léon Christians (UCLouvain)
16.05   Relation between freedom of conscience and institutional freedom - Dr. Raimund Klesse (Société Hippocratique Suisse)
16.30  State neutrality and institutional pluralism in healthcare - Dr. Léopold Vanbellingen (UCLouvain - Institut Européen de Bioéthique)
16.55   Panel discussion
17.30   Closing remarks - Pr. Chris Gastmans (KU Leuven)